MAKE YOUR PARKING SPACE FIT FOR ELECTROMOBILITY
The integrated solution for parking and charging electric vehicles. An additional ticket is not required – and charging is just as easy as parking. The only vehicle identification required for this is a ticket or licence plate. Parking and charging fees can be paid as one single payment. Customers do not need an additional app or special parking subscription and can use all the payment options available in your parking facility.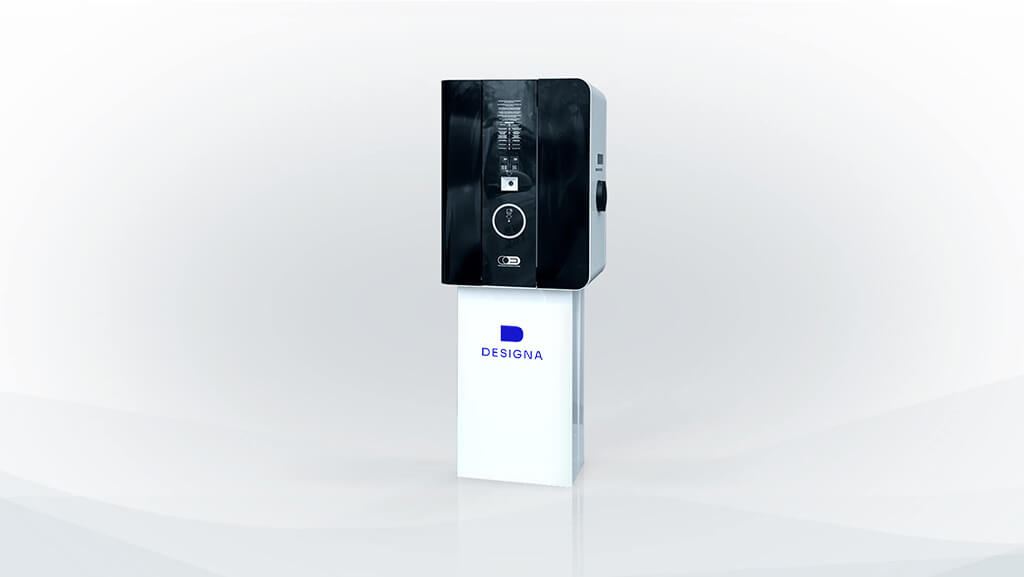 EIGENSCHAFTEN DESIGNA CONNECT E-CHARGING STATION:
2 x 22 kW Typ 2

Charging station for indoor and outdoor usage

Two charging points per station

Integrated QR code/barcode scanner and RFID reader

Safe charging in mode 3 according to IEC 61851

Designed for wall mounting

Standing unit (optional)
Further Features of the Designa CONNECT E-Charging Station:
Vandalism protection: IK10
Implemented MIFARE- and QR-Code/Barcode-scanner
One FI and one LS installed per charging point; plus common overvoltage block
Connectivity: 3-way switch installed, optionally an LT modem with SIM card (M2M) can also be installed.
Multi-client capable
Ring buffer memory with > 20,000 measurement data records (storage of a data record for 10 years with 5 charging sessions per day)
CAN WE HELP YOU? WE ARE LOOKING FORWARD TO YOUR REQUEST.