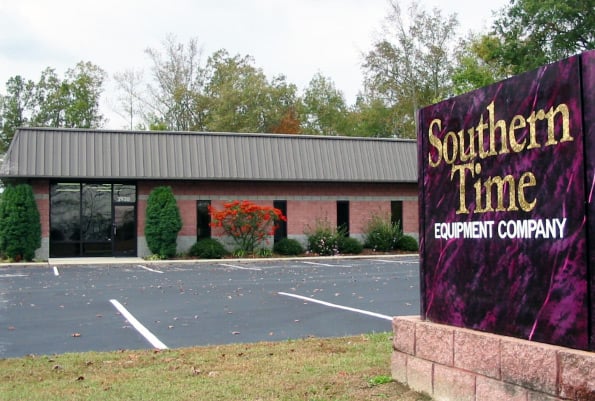 COMPANY PROFILE
DESIGNA Southern Time (formerly Southern Time Equipment Company) is devoted to providing the customer with the best product, the best service, and complete customer satisfaction.
Southern Time Equipment Company has been a parking system distributor for both North and South Carolina for 30 years. Since its inception in 1977, they have expanded and have established offices in Winston-Salem and Charlotte, North Carolina and service locations in Wilmington, North Carolina and Charleston, South Carolina.
Southern Time is the exclusive distributor for all DESIGNA products for both North and South Carolina. Southern Time's technical ability and knowledge of the systems allows them to fulfill customers' needs completely. The attention to credit card security is maximized by being a QIR Certified Reseller and making sure that customers understand their PCI PA/DSS responsibilities.
The software research and development department is well versed in handling custom applications and customer reports for all customers. The team of programmers and IT professionals provide software and network solutions beyond normal support functions. Southern Time have the ability to custom create software solutions tailored to fit each customer's unique requirements. They understand it is very important to maintain the ability to change as technology changes.

This has required to provide customers with an exceptional technical sales and support staff. The staff understands today's technology and how it will develop into tomorrow's products. With this insight, they are able to provide products and support services that can be used today and integrated into the future systems of tomorrow. They are proud members of The PARC Group, International Parking Institute (IPI), The Carolinas Parking Association, and the Association of General Contractors of the Carolinas.
Key projects:
Wilmington International Airport
The Piedmont Triad Airport
The City of Highpoint, NC
Main Office
2920 Horace Watson Road
Wilson, North Carolina 27893
United States of America
www.southerntime.com
Local
252-291-4318
Service
1-800- 849-5654
Charlotte North Carolina Office
Southern Time
8421 Old Statesville Road, Suite16
Charlotte, North Carolina 28269
1-800-849-5654
Winston Salem Office
Southern Time
5723-G Country Club Road
Winston-Salem, North Carolina 27104-3385
336-945-6377
Service
1-800-849-5654
Wilmington North Carolina Service
1-800-849-5654
Charleston South Carolina Service
1-800-849-5654
States of operation: North & South Carolina
CONTACT DESIGNA SOUTHERN TIME NOW: